Commences: Chiang mai, Thailand

ADVENYURE! EXCITING! ACTION! FUN FUN!

About 2-4 hrs, ( Depend on the season ) Join our professional team for a superb whitewater rafting adventure on the Mae Teang river. Experience a unique and unforgettable journey through winding gorges, luscious jungles, and magnificent terraced rice fields. Paddle through breathtaking canyon for unparalleled fun on the river.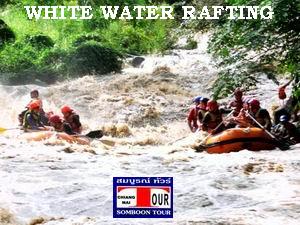 We'll pick you up at your hotel in Chiang Mai and drive through unspoiled villages in the Mae Teang area. then prepare yourselves to go on the rafting. At our camp you'll be outfitted with helmets and life' jackets. After our staff brief you about the instruction on paddling and river safety, you are off to the longest and best rafting trip on the Mae Teang river. At the finish point, enjoy a shower return back to your hotel.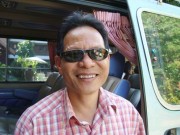 TOURS CHIANG MAI AT SOMBOONTOUR CHIANG MAI
You should travel with the only licensed tourism company to get the lawful protection.
TAT License No. 23 / 0298
Tourism Authority of Thailand
TOURS PRICE Code : CCT 004
**ONE DAYS TREK
**JOIN GROUP TOUR ONLY
**PRICE 1,200 BAHT/ PERSON
A Children under 8 years old will be given half price.
Included Transfer, Experience guides and crew members
Itinerary 8:00 - 9:00 a.m. : Pick-up from hotel or guest-house Transfer by local truck. Back to Chiang Mai where you will arrive at about 17:00h.
SOMBOON TOUR CHIANG MAI
Tel. In thailand
08 1980 3221, 08 1111 1176
Office & Fax 053 818 067
Tel. International +66 8 1980 3221
If you would like to go on a private trek or if you have your own group then please just E-mail us.
Email
Note: This information was accurate when it was published, Please be sure to confirm all rates and details directly with the companies in question before planning your trip.
PAYMENTS TOURS
BANK TRANSFER
Name: Ms. Mantana Kuykeaw
.Bangkok Bank Public Co.,Ltd.
Chang Klan Road Branch, Chiang Mai Thailand.
Savings account No
423 056 816 6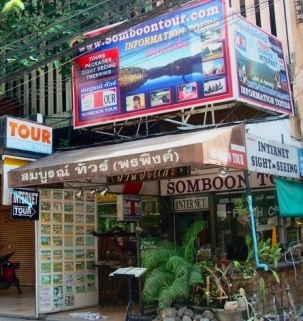 Office.Somboon tour Chiangmai Thailand 23/4 CHAROENPRATHET ROAD (OPPOSITE) PORNPING TOWER CHIANG MAI THAILAND 50100
INTERNET- SCAN PICTURE -TOURS - FRESH COFFEE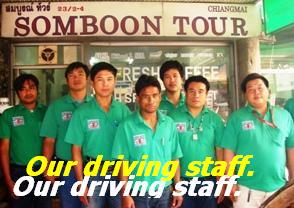 Good Driver of Somboon Tour Chiang mai. English speaking local driver of somboon tour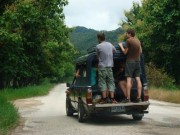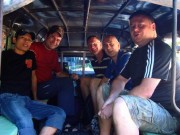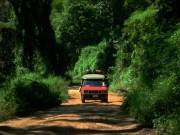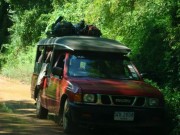 ÀÒÉÒä·Â

THAI VERSION