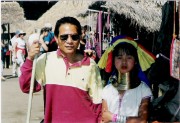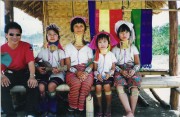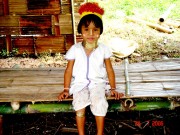 The Padaung women famously wear brass rings around their necks. This distorts the growth of their collarbones and make them look as if they have long necks - which they don't. This row of brass rings do not actually stretch their necks but in fact squash the vertebrae and collar bones. A woman generally has about twenty or more rings around her neck. This neck ring adornment is started when the girls are 5 or 6 years old.
The rings on the arms and the legs are not quite as prominent as those on the neck simply because the neck rings are so pronounced. However, these rings are just as important. The rings on the arms are worn on the forearm from the wrist to the elbow. Those on the legs are worn from the ankles to the knees, and cloth coverings are kept over most of these rings, from the shins down to the ankles.
Most of Padaung are animists, but about 10 percent are Buddhists. Now, the number of Christians is increasing because of the Roman Catholic mission. The annual festival for the fertility and prosperity of the whole community is usually held at the beginning of the rainy season. Sacrifices are made to the spirits for good health and bountiful harvests. Rice is the Padaung main crop.
<< KAREN LONGNECK VIDEO CLIP >>