Chiang Dao cave. The Chiang Dao Caves are located 72 km north of Chiang Mai city along the way to Fang and Tha Ton and 5km west of route 107.
Chiang Dao cave. There are five interconnected caves that make up the Chiang Dao cave complex, believed to stretch for many kilometres into Doi Chiang Dao, only a small part of the complex is possible to explore. Two of the caves, Tham Phra Nawn (360m) and Tham Seua Dao (540m), are illuminated by electric lights. The other three Tham Maa (7365m), Tham Kaew (477m), Tham Naam (660m) can be explored with the aid of local guides with lanterns. There are numerous spectacular cave formations, many named Chiang Dao cave.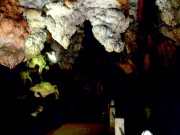 present only the following caves are open to the public:-
There is a Thai legend that says the Tham Chiang Dao Caves served as the home of a 'reu-sii' (hermit sage) for a thousand years. According to the legend, the sage was on such intimate terms with the deity world that he convinced some 'the-wadaa' (the Buddhist equivalent of angels) to create seven magic wonders inside the caverns: a stream flowing from the pedestal of a solid-gold Buddha, a storehouse of divine textiles, a mystical lake, a city of nagas, a sacred immortal elephant and the hermits own tomb.
The locals say that all the magic wonders are very deep inside the mountain - beyond the furthest illuminated areas, so cannot be found! The locals also say that if anyone removes even a singular small piece of rock from any of the caves, they will forever lose their way inside the eerie passageways

ภาษาไทย
THAI VERSION