LONG NECK PADONG Amazing Padong Longneck In Thailand Long Neck Padong people At Mae rim district. The Long Neck Padong attract many curious visitors on account of their Long Neck women. A tradition of beautifying women by adding brass rings to their necks has been preserved largely for generating tourism. Although the neck appears cruelly elongated, it is the collarbone which has been displaced rather than the stretching and weakening of the neck.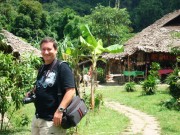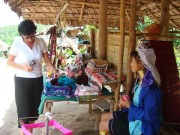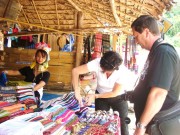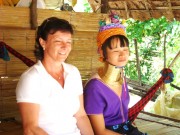 Long Neck Padong people are a unique hill tribe in Thailand as some of the women choose to wear a brass coil that over time elongates the neck as much as double. Originating in the Shan State in Burma (Union of Myanmar) these unique peoples are a small minority of the Karennin or Red Karen people of Burma.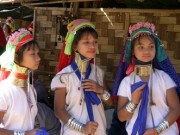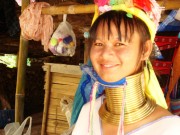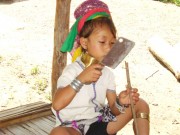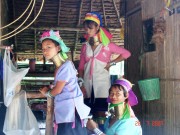 There is much speculation about why the rings are worn by the women of this tribe but, when asked, most of these gentle and proud ladies will tell you it is simply tradition.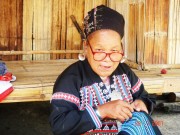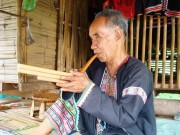 LAHU SHI BALAH OR YELLOW LAHU OR MUSER TheLahu hunter are divided into two groups; the Black Lahu form over 75 percent of the Lahu and consists of three subgroups - the Lahu Na, the Red Lahu and Shehleh Lahu. A second group is known as the Yellow Lahu. The Thai call the Lahu "Muser" because of their skills at hunting in the forest. Houses are generally built on stilts, with villages consisting of 15-30 households. Households consist of families with unmarried children and maybe a married daughter and family. The Lahu believe in the soul, a house spirit, nature spirits and a supreme being who is administered to by a priest.Traditional clothing of the Lahu is black with bold embroidered patterns and bands of cloth for decoration.The trims of sleeves, pockets and lapels are often decorated, with each subgroup using different colors. However, the Lahu tend to wear ordinary clothes for everyday life, reserving their costumes for ceremonial occasions.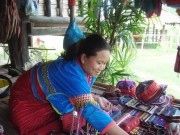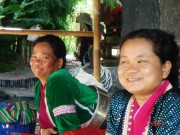 PALONG The Palong call themselves "Ta Ang" Palong women sit in the orways of their houses weaving strips of fabric to be used for the traditional skirts or bags. One of the traditional folk tales helps explain why the women wear a thick silver belt to hold up their skirt. The Palong are easily recognized by the striking custom of their women, red sarong like garments, mostly a blue jacket with red collar and broad silver waistbands.Formerly animist most Palong have conver to Buddhism They practice a Shan type Buddhism mixed with animism which includes ancestor worship and the celebration of the spirit festival in September.
Their main livelihood is the cultivation of tanatep, a large leaf to wrap burmese cigars, and Tea. Besides tea, the they also grow rice, beans, yams, sugar cane, hemp, chillis and other crops. Both men and women decorate their teeth with gold. They [men and women] smoke tobacco and chew betel nuts.Courtship takes place especially during the tea harvest. Marriages are often conducted several together, followed by a three-day party.Their houses are thatched wooden constructions, raised on stilts.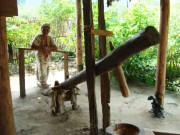 We arrived in the WHITE KAREN White Karenvillage in the early evening and preparations were happening for the wedding. A 23-year-old man was marrying a 17 or 18-year old woman (we weren't clear on her exact age). Evidently the tradition among this village (not sure if it's true for all White Karen people) is that if a woman meets a man she wants to marry, As we walked back out through the other room of the structure, we could see the bride being readied for the wedding.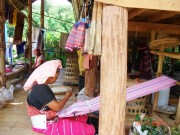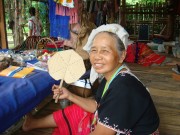 A woman was brushing her long black hair and then they placed a white lace veil on her head. She was wearing a brightly colored sarong and traditional top. Nat told us later that the White Karen people are Christian and this village is Catholic. That surprised me but I guess those Catholic missionaries got around.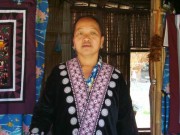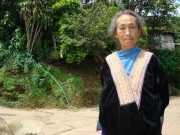 The HMONG Hmong people are originally from southern China, Burma, and Laos. Because they were nomadic and frequently on the move, their material culture was of necessity light and easily transportable. Traditional Hmong costumes called paj ntaub or "flower cloth" are incredibly complex and beautiful combinations of appliqué, reverse appliqué, embroidery, and batik. Traditionally, girls learned these techniques at an early age. Uses of contemporary Hmong flower cloth have expanded beyond the making of traditional costumes to encompass a variety of textile objects. Men now take an active part in the manufacture and sale of these textiles.