Union of Hilltribe Villages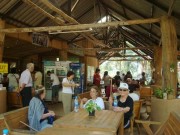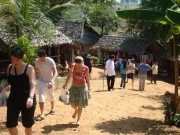 Long Necked padong Scarves are hand loomed by Karen hill-tribe women living along the Thai – Burma / Myanmar border and the dangerous Pie river. Women of the hill-tribe have worn ornamental brass rings for centuries. The exact reason why has been lost in the myths of time. However, the end result is world famous, as is their nickname, The Long Necked padong Tribe. The women wear a brass coil around their neck, the weight depresses the collarbone, making their necks look long and stretched. This custom does not impair their health and can be removed at will which is rarely done except on wedding night, (lot's of neck washing).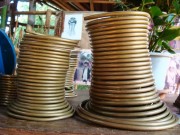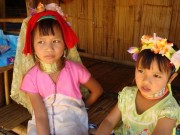 Rings are a continuous coil around the necks of girls beginning at the age of six. A few rings added every year, weighing up to 45lb, the average is 15lb. We have, for sale, a limited number of bracelets, of the same metal, made by the older hill-tribe women. (look best in group of 6 - or 3 - or single)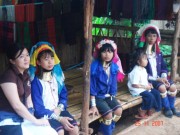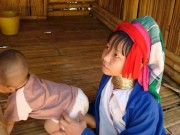 The Long Necked padong women wear the colorful clothing, white dress topped with scarves and hats in vibrant hues of red, blue and green. A few young girls also wear the brass rings; all children attend school.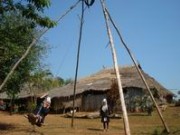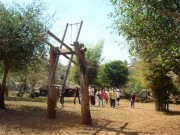 Akha Akha call themselves Akha. The Shan name for the group is Kaw, the Lao Kha Kaw, and the a Thai term of contempt.
The Akha Language is classified in the southern division of the Lolo (Yi) branch of The Tibeto-Burman family. Literacy in the language is limited to the Christian community. Some Akha also speak Shan or Northern Thai and Lahu.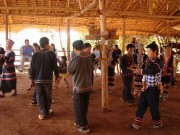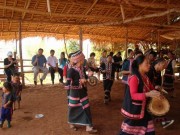 Lahu (Muser) All Lahu call themseves Lahu or,as pronounced by the Shehleh.Laho,The origin and the meaning of this word are not known,The names of the sub-groups are generally formed by adding a color term; thus,Lahu Nyi means Red Lahu,Lahu Na Black Lahu, Lahu Shi yellow Lahu and Lahu Hpu White Lhu. The atter three being the names of other sub-groups also represented in Thailand.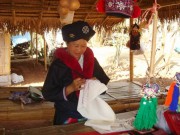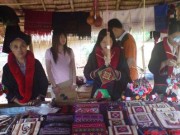 Lu Mien (Yao) The language of the lu Mien linguists call Yao and cassify in the Mial-Yao-Pateng family. This is usually placed in the great Sino-Tibetan Bumes. Chinese. and Tibetan.
Lu Mien are often able to speak Yonnanese or the closely related Mandarin Chinese, and literacy in Chinese has long been highly regarded among them,sons being taught by fathers, by fatheres.and by totors when avalable.And archic form of Chinese is the liturgical language of Lu Mien religion,and by totors when available, And archaic form of Chinese is the liturgical language of Lu Mien religion, occupying a place anlogous to that of pali in in buddhism and Latin in Christianty Chinese charaters are also employed in writing Yao.
<< BACK PAGE PROGRAMS TOUR: