CHIANGRAI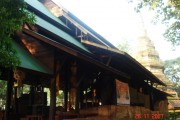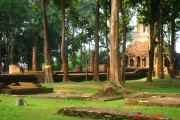 Chiang Saen first capital of northern Thailand, An ancient town
Chiang Saen Visit Chiang Saen first capital of northern Thailand, An ancient town located on the bank of the Mekong River, Chiang Saen was originally called Wiang Hiran Nakhon Ngoen Yang. It served as the capital of the Lanna Thai Kingdom until King Mengrai established Chiang Rai as the capital in 1262. Ruins of the old double city walls and many other antiquities remain both inside and outside the district town. Most notable is the distinctive style of Buddhist sculpture which evolved in Chiang Saen during the late thirteenth century providing proof of the city's historical importance.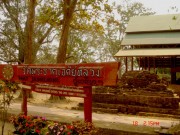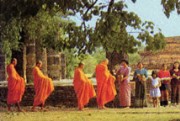 Wat Phra That Chedi Luang Next to Chiang Saen National museum is an ancient 88-meter high, bell-shaped, Lanna style principal chedi which has a 24 meter circumference base. Constructed in 1290 by King Saen Phu, the 3rd ruler of the Lanna kingdom, it is the tallest religious Lanna monument in Chiang Rai. In addition, there are also remains of ancient vihans and chedis.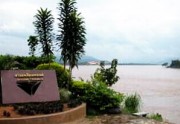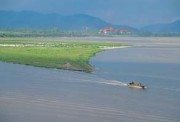 The Golden Triangle
A trip to Chiang Rai province would not be complete without seeing the notorious Golden Triangle first hand! This famed border location where Thailand, Laos and Myanmar meet on the Mekong River was once supposed to be the center of all the poppy cultivation in Thailand. This area where the Mekong River meets the Ruak River is locally referred to as "Sop Ruak". Within this area are remains of many ancient places and structures attesting to the fact that the area had been settled by people in the past.will have a buffet lunch at Golden Triangle. It is also the area where various legends concerning the Lanna ancestors originate. Boats can be hired in order to view the upstream scenery of the Golden Triangle and to travel you can also enjoy the boat ride to view the splendor of mighty Mae Khong River ( Optional ).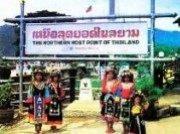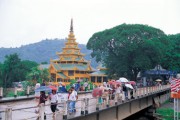 Mae Sai Visit to Mae Sai, Mae Sai is the northernmost town in Thailand. From here, one can cross to Tachilek in Myanmar. There is really not much to see in either Mae Sai or Tachilek - which you can cross for a day trip - other than the novelty of being at the northernmost town in Thailand,
Mae Sai is named after the river of the same name that separates Thailand from Myanmar. A small bridge crosses the Mae Sai river into Myanmar. If you are thinking of exploring Tachilek, be sure to note that the border closes in the evening, do be back early or else you will be stranded on the wrong side of the river. Stop at the Fish Cave on the way ...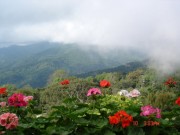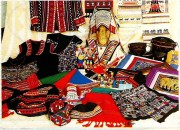 You should travel with the only licensed tourism company to get the lawful protection.