THAM PLA (FISH CAVE)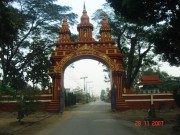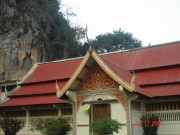 Tham Pla is located in Pong Ngam village of Mae Sai. It is easy to go there by taking High Way No. 10 from Mae Chan – Mae Sai and turn left at Ban Tham Market. At Ban Tham Market there is a sign of Wat Tham Pla then follow the direction. Wat Tham Pla is at the other end of this road.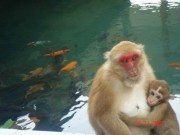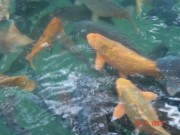 Tham Pla is 100 m. away from parking lot. It is a small canal that water flows from a tunnel under lime stone mountains. Since it was ignored and tourists dropped food to the water these leads to the dirty water . There are many kinds of fishes such as carp and gold fishes. Not many people can see the historic fish related to the cavern called "Pla Heeb Neeb Ping". The Fish cave is a lake that ends directly at the mountain - or better in it, since the cave goes on under water. In the lake a lot of Koi (special fish - ask any collector how pricey they are) swim. You can feed the fish and enjoy the surrounding a little. I really liked the monks around here. Wonderful contrast between their orange robes and the green surrounding.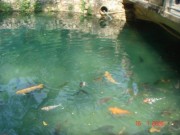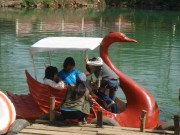 History of Fish Cave
According to a legend of Yonok said that once the Lord Buddha came here and a villager gave him grilled fishes. The Lord Buddha wished those fishes became alive again and liberated them to a hole at Plew Plong Fah. Phra Anond, the Lord Buddha's follower, poured water from his bowl into the hole and it became a canal later. After that the Lord Buddha closed the hole and put his hair in a stone that he used for closing it. In 1500 B.E. King Uchutarat of Yonoknakorn had established a pagoda for collecting a relic of the Lord Buddha at Plew Plong Fah cavern. There is another pagoda that not far from it called "In Plaeng Pagoda". It is said that Indra (a name of god) disguised himself as a Myanmar's ascetic called U-Suai Lah built this pagoda in 2455 B.E. When the pagoda was done the ascetic disappeared

and nobody have seen him since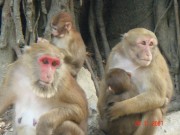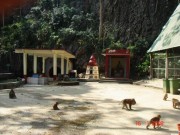 Monkey you look at Wat Tham Pla

When you walk through, you can see the enormous trees shaking and trembling and while you look closer you see herds of monkeys jumping from tree to tree. Monkeys in all sizes, colors and ages, running around you, walking with you and accompanying you while walking nearer the mountain and cave. And there you will stand amazed. A huge cave filled with water and fish and the mountain outside full of monkeys who live in a natural free surrounding.