Mae Sai Checkpoint.
The opposite checkpoint is Thachilek of Myanmar. This is the famous border market and tourists can drive cars to Chiang Tung of Myanmar from this Checkpoint.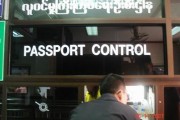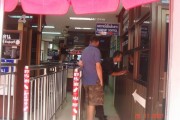 1. Passport
For those who already have got Laos?and Myanmar? Visa can travel everywhere in both country for 15-30 days.
2. Temporary Visa (Border pass)
For Thai Nationalities can get thiscard and will be able to stay in Myanmar and Laos PDR. for15 days. in the specific areas only. The Temporary Visa can be used only once and tourists have to follow the rules or else it may lead to prison.
2.1 How to get Border Pass?
You need to prepare listed items -
- A copy of ID card.
- 1 inch photograph (2 photos for Laos PDR., but not necessary for Myanmar)
- 30 Baht fees
2.2 Where to get VISA?
- Chiang Khong Office
- Chiang Saen Office
- Mae Sai Office and Jamestone shop (in front of Mae Sai-Tha Chi Lek Border)
Thai and Myanmar Border (Mae Sai, Thailand to Thachilek, Myanmar)
-The Thai-Myanmar border checkpoint is opened from 6.30 a.m. to 6.30 p.m. daily.
- For people of Thai and Myanmar will be permitted to travel within 5 km. radius only.
- For Thai national, the document needed for temporary border pass are
1. A photocopy of Thai National Identification card.
2. Cars or motorcycles must bring original registration book.
- The fees for Thai Immigration office is 30 Baht each
- The fees for Myanmar Immigration office, for Thai national is 10 Baht each.
- For all other nationals are 5 U.S. Dollars.
- Bringing cars into Myanmar, the fees for each vehicle is 60 Baht. If there are any passengers, the fees for each passenger is 10 Baht.
- Bringing motorcycles into Myanmar, the fees for each motorbike is 10 Baht.
- The Thai Baht is mainly accepted for purchase goods and services.
- No weapons of any kinds will be allowed to cross the border.
- The traffic in Myanmar is right hand side traffic system.
Buying goods and bringing them back across the border
- Only 1 carton of foreign cigarette per person will be allowed to bring back.
- Only 1 bottle of liquor per person will be allowed to bring back. The fine is10 times of the goods price.
- Other goods must be checked and verified with the immigration office before Making any purchases.