GOLDEN TRIANGLE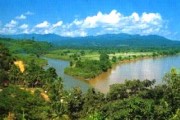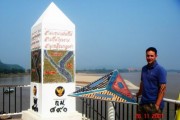 Golden Triangle

The infamous Golden Triangle, where the borders of Thailand, Myanmar and Laos converge, is Chiang Rai province's most popular attraction, luring thousands of visitors annually. This notorious area, located approximately nine kilometres from the historic town of Chiang Saen, is bolstered by its history and the surrounding towns. It's riverfront position at the confluence of the Mekhong and Ruak rivers lends it a unique appeal.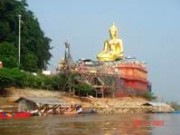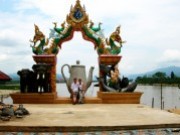 Located near the Northern-most point of Thailand - The Golden Triangle was once the centre of all opium poppy growing in the country, and actually refers to a large area of the three bordering countries. However, the point of actual convergence of these borders is what most people now call the Golden Triangle. Here, the illicit crops have long since been replaced by the small tourist village of Sob Ruak, and today the roads are flanked by countless small restaurants and vendor's souvenir stalls along the banks of the Mekhong river.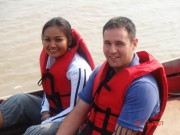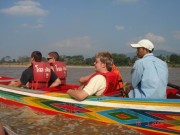 Sob Ruak's most enjoyable tourist pastime is its boat tours. Longtail boats are available for hire here, and cruising up and down the Mekong River allows visitors a glimpse of village life in the many riverside settlements - particularly over in Laos. It's a good way to escape the many tour buses that roll into town daily. There is also a casino, popular with Thai folk, over on the Myanmar side and special arrangements have to be made to get there - though they are not difficult.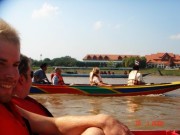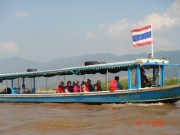 Accommodation in Sop Ruak is supplied by two hotels of international standard, the Imperial Golden Triangle Hotel and the more upmarket Baan Boran. Nearby however, is the Anantara Resort which is in a league of its own. Baan Boran has a lovely terrace restaurant with outstanding views of the Mekong valley and lush green undulations beyond, and is an excellent place for lunch, even if you don't plan on an overnight stay. From Sop Ruak, it is also possible to organise trekking tours to some of the many hill tribe villages that are located in the outlying areas.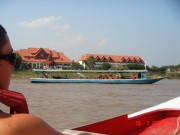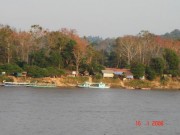 The area's legacy of opium production, usage and trading - which continued right up until the 1980's, is well documented in two museums. One is found right in Sop Ruak, while the newer and more extensive one is a little way out of town. The latter, the Hall of Opium, is a new 10 million dollar installation that is world class and highly recommended.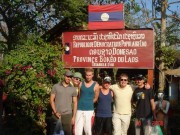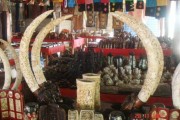 Chiang Saen Nearby Chiang Saen features some ancient, unspoilt temples, including Wat Pa Sak, dating from 1295, where you can see a vast stupa surrounded by smaller temples and chedis.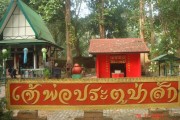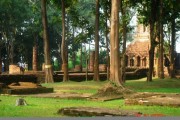 It was built by King Saen Phu, the 3rd ruler of the Lanna Kingdom in early 13th Century. Ancient sites include the bell-shaped, Lanna-style principal Chedi which measures 88 metres high with a base 24 metres wide, the largest such structure in Chiang Saen. There are also remains of ancient Wihan and Chedi

.

The Chiang Saen Museum exhibits a variety of local artwork, ranging from handicrafts made by people from the surrounding hill tribes, to ancient Lanna-style artefacts. In fact Chiang Saen was once the capital of Lanna, before being usurped by Chiang Mai, and for centuries has been an important trading town in the area on account of its position on the Mekhong river.