THUNG BUATONG FOREST PARK
Along 108 highway (Mae Hong Son – Khun Yuam). Leave 1 kms before reaching the Khun Yuam, turn left to Highway No 1263, along 26 kms on asphant road. You will see a picture of yellow field from long distance.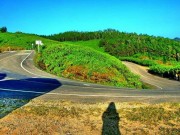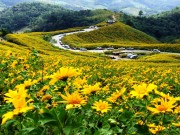 Thung Buatong Forest Park is a place you should never miss. If you travel from Chiang Mai to Mae Hong Son by Highway 108 in the period from November to December, about one hour after passing Khunyuam county, you will be fascinated to see a sea of golden Mexican sunflowers (Tithonia Diversifolia) blooming along both sides of the road over the rolling hills for miles.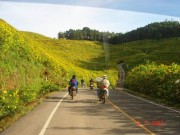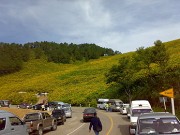 These wild flowers, called Buatong in the northern dialect, look exactly like sunflowers but are much smaller. There is a lesser Thung Buatong in Mae Sariang county, also along Highway 108.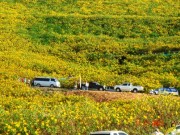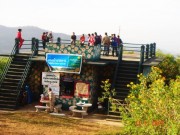 Thung Buatong Forest Park (Wild Sunflower Field) is one of the most famous tourist attractions in Mae Hong Son Province. Its significant character is the area is largely decorated of yellowish wild sunflowers, located on high mountain where you can see scenery of vivid wild sunflower mountain range. The weather is cool throughout the year and there's fog covered in the morning.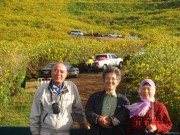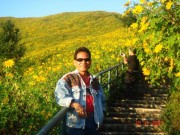 Topography Thung Buatong Forest Park located on the mountain where is 1,600 metres above the average sea level. There's beautiful scenery that is like complex ocean waves. In this forest park area, natural forest is grown mixed with planted pine forest.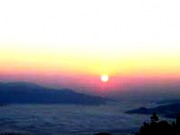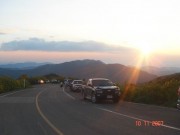 Climate Cool throughout the year. It is very cold in the winter. There are heavy fogs in the morning and cold during the day because of the wind blows all day long.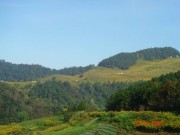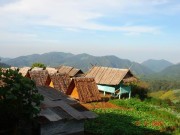 Flora and FaunaIt's Hill Evergreen Forest and Pine Evergreen Forest. Most of Hill Evergreen Forest has been found in the north and west of Thung Buatong. Flora species grown around the hill slope and valley consist of Castanopsis species and so on.