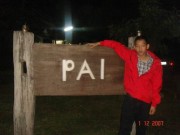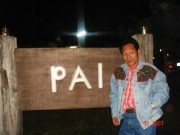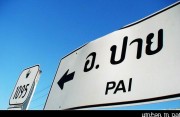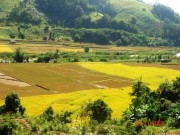 The citizens of Pai live their lives with a spirit of generosity and a sense of community, always ready to give someone a helping hand. Yet at the same time, the remoteness of the region makes travel to and from Pai difficult. Many people would rather not come and risk their chances in such an isolated place. However, many other people entrust their luck to fate in this very spot, and others dream of having just one chance in their lives to come and experience the summit of the north of Thailand.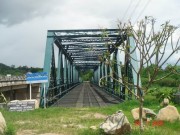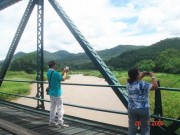 World War II Memorial Bridge The World War II Memorial Bridge is located at the kilometer marker 88 on highway 1095 (Mae Malai-Pai Road). This bridge was built in 19424, during the World War II. At that time the Japanese troops chose Pai to be their military base since Pai was completely surrounded by mountains and rivers, and therefore served as a very advantageous spot. So a bridge made of rion over the river was constructed in order to transport weapons and provisions to Myanmar. Although this bridge was only nearly complete when the war was over, it has become one of many fascinating tourist attractions of Pai.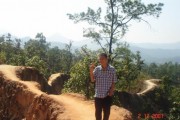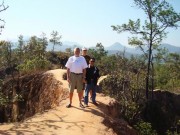 Pai Canyon or Kong Lan Along highway 1095 before reaching the World War II Menorial Bridge, there is a road sign to Pai Canyon on your left. Pai Canyon or Kong Lan is another interesting tourist attraction in Pai. The steep cliff has been eroded for a long time ago, creating the 20 meter-deep valley amidst the scenic settings of the red hill of dry dipterocarp and pine forest. It is best to visit this place in early morning or late evening, because in the afternoon the area could be extremely hot.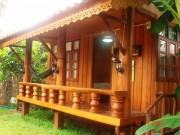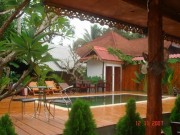 Then we will go to Pai City and check in Resort(Overnight at Resort) and walk around Pai night market.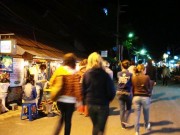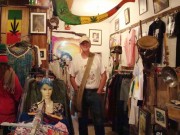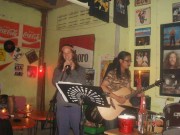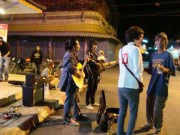 Pai night market

After dinner, we browsed in the night market. There were a lot of souvenirs with not cheap prizes. In this market, the popular shops were poscard shops and shop which sell somthing indy. We would like to reccommend you to Pai and go shopping in the night market Night Market in Pai is amazing! Someone said New York is a melting pot, we recommend that person to visit Pai, and she or he will know the real melting pot. We heard people talking in different languages and there are soooo many international cuisine available in Pai. Our menu include Northern Thai food, Pizza, Kebab, and lots and lots of coffee, which we still can't figure out why people here love coffee so much.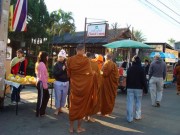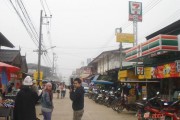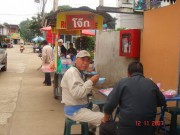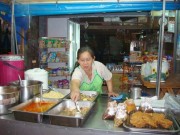 Day 2 Get up and visit the Pai local Morning market. Have breakfast by tasting "Joke", a Chinese rice soup,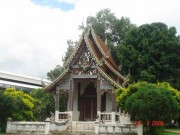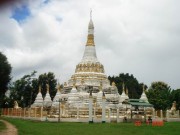 Luang Temple Luang temple has a beautiful Shan style chedi, which was built in 1899 and also has a Shan style sermon hall and Buddha image. Luang temple is the main temple of Pai and is where many of the town's important festivals take place.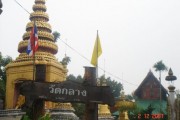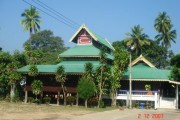 Klang Temple Klang Temple The chedi at Klang temple represents a mixture of Shan and northern Thai styles. The base up to the middle is Shan style and the middle to the top is northern Thai. There are alcoves set in the sides to represent the different Buddha images for each weekday. Mae Yen temple.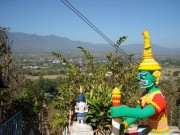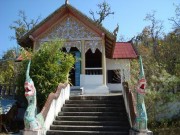 Mae Yen temple Mae Yen temple is located halfway up a mountain and once you have climbed the 350 steps to get there the views over the valley are tremendous, covering a radius of around 10kms. There is an interesting old chedi at the temple and also murals that were painted by a local artist about the previous lives of the Buddha.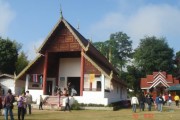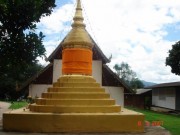 Wat Nam Hoo Located around 3 kilometers westward of Pai administrative office, Wat Nam Hoo is another ancient temple of this town. It is a place where a famous Buddha image called Lunag Po Une Muang is situated. This image is 30 inches high and 24 incghes wide. It is cast in bronze for more than 500 years now. Since the bun of the image could be opened and is always full of water, it has become a very respected image for Pai people.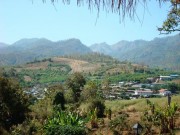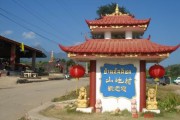 Ban Santichon (San Ti Chuen in Yunnanese) is a small village just outside of Pai, situated on the hillside overlooking Pai valley. Populated mainly by descendants of the KMT (Chinese Kuomintang), the village has preserved its Yunnanese roots and features the charm and atmosphere of a Chinese rather than a Thai town.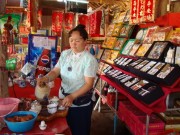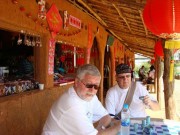 The Yunnan Chinese Culture Center may become a new tourist attraction in Santichon, Pai, which could change its image from that of a drug village.
On February 9, Prasit Prasertsri, Mae Hong Son deputy governor, presided over the opening ceremony of the Yunnan Chinese Culture Center at Baan Santichon, Pai district, Mae Hong Son. The exhibition shows the ancient Chinese pace of living and lifestyle and there is also a market for local products. Boonlor Lorariyawat, headman of Baan Santichon, said that the name of Santichon has been notorious for drug connections but the government is now keeping a weather eye on this area.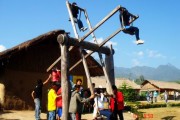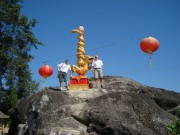 In an effort to revive its popularity, the villagers built the culture center in the middle of the village to attract tourists. From now on, they fondly hope, it will create only fame for the village and the polyglot villagers will be happy again. Presently, 264 villagers claim to be Thai, 807 are still waiting for nationality permits, 205 persons are liberal Chinese, 133 are migrating Chinese, 48 are former nationalist Chinese combatants, 284 are identified as hill tribe people and 137 remain unidentified.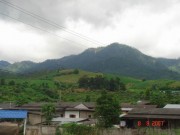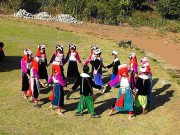 Ban Mai Sahapan ( Lisu Village) Mae Hong son is a province with people from various hilltribes. Lisu (or lee-Sor) is one of the small tribes that can still preserve their cuture and identity very well. In order to visit this villge, you can start the journey at Pai Hospital. This village is located only 3 kilometers away from Pai town. There tourists are free to see Lisu People's lifestyle and buy some souvenirs, such as textiles, silverware, as well as agricultural products.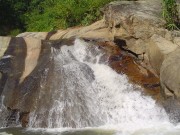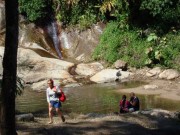 Mo Paeng Waterfall (We'll take time for swimming). Located at Ban Mo Paeng. Only 9 kilometers away from Pai towm. MoPaeng Waterfull is one of the most Favorite attractions in Pai district. To get there, take highway 1095 in the direction to Mae Hong Son town, Turn left at the kilometer marker 102 until you fine Yapo village. Drive further for around 500 meters and you will find the parking lots at the end ot this amall road. The waterfall is on your right. Actually Mo Paeng Waterfall's beauty is second to Mae Yen Waterfall's but is much easier to get to this fall. Mo Paeng Waterfall. Is a 10- meter-winde and 15-meter-hihg waterfall. The ponds below are pretty large and safe for swimming. Although the waterfall could be visited all years, there will be water most in reiny season.
Viewpoint of Pai