BAN RAK THAI & PANG - UNG LAKE
Overnight Resort at village.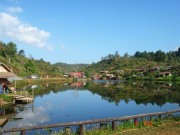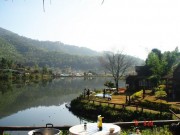 Ban Rak Thai (the Thai-loving village) After the Communists took This history of movement and conflict seems all but gone from Mae Aw, but not forgotten, and has in its wake left this quiet Chinese outpost amid boundless tea farms and the whispering pine forest. Because of the altitude and pine forest, things are unusually cool here for Southeast Asia, even during the hot season. The day that I go is a hot day, unusual I am told for Ban Rak Thai. I feel the sweat on my back as I walk the small streets of the village.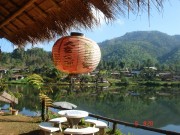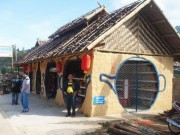 This village is situated 44 kilometres from Mae Hong Son via Pha Suea Waterfall near the Thai-Myanmar border. Founded by Kuomintang Chinese soldiers, the village is famous for its breathtaking views and tea cultivation. Visitors can see how the tea is grown and harvested and taste some delicious U-long tea. An annual Tea Tasting Festival is held at Ban Rak Thai in February.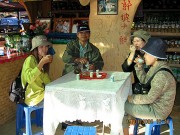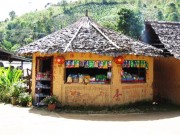 Chinese refugees settling in Northern Thailand can be dated back to the 1949 Communist takeover in China, when a considerable number of Kuomintang (Chinese Nationalist Party) adherents fled the mainland. They first landed in Burma and finally moved to Thailand. The Thai government offered a piece of barren land to these wretched Chinese refugees for residence.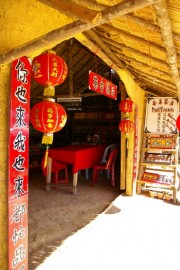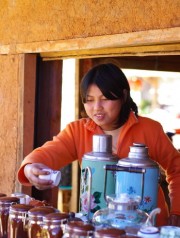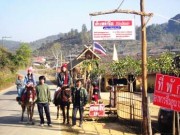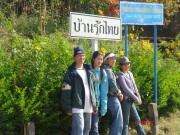 There is a sense of history to the town of Mae Aw – echoes of past conflicts that reverberate off peeling mud walls from faded Chinese lettering and move lightly with the breeze through the muffling quiet of the surrounding pine forest.In Thai, this town of 1,200 people is known as Ban Rak Thai, or "the Thai-Loving Village."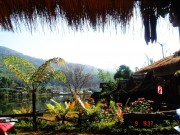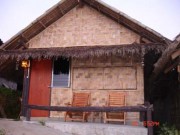 Tucked away in the furthest corner of Thailand, and just a mountain pass away from Burma, Mae Aw is 30 kilometres away from the provincial capital of Mae Hong Son. It is fairly simple in its layout – really just a bunch of A-frame bungalows and wooden cottages collected around a large artificial reservoir.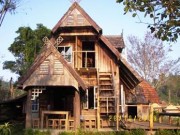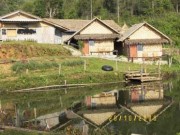 Get up and check out of the Resort. Then head off to feel the mist sea and to experience the beauty of the sun rising at Ban Rak Thai Hill.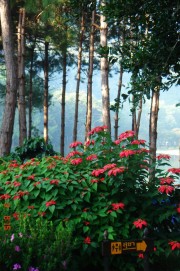 Pang -Ung lake " Pang-Ung " inside Baan Ruam Thai, under Royal Patronage project has turned it into picturesque destination. Swans idle in its crytaly-clear lake that in winter, when the temperatures hover around zero, is covered in a thin film of ice. This is Swizerland in Thailand. Not far from Mae Aw lies Pang Ung, known for its production coffee beans. A few kilometers out of the village there ist a lake, a water reservoir, surrounded by pines with a camping area. The lake is covered by fog in the early morning, until the sunshine comes. Very romantic! A road runs along the lake to a green hill, where there are some guest houses.