TRIP ROUTE MAE HONG SON - PAI - TO CHIANG MAI/2
Mae Hong Son" is one of the "dream destination" for visitors.
Trip route: from Chiang Mai by Highway No.108 via Chom Thong - Hot - Ob Luang (Hot district of Chiang Mai province) - Doi Mae Ho - Mae Sariang (Mae Hong Son province) - Khun Yuam - Thung Buatong Forest Park on Highway No1263 U- turn Back by Highway Highway No.108 Mae Hong Son province. Then drive returning route by Highway No.1095. - Ban Rak Thai (kmt. village) This village is situated 44 kilometers from Mae Hong Son via Pha Sua Waterfall near the Thai-Myanmar border U- turn Back by Highway No.1095 via - Pang Mapha - Pai (district of Mae Hong Son province) - Pai - Mae Malai - Chiang Mai. Go & Back with curves From Chiang Mai to Mae Hong Son it is not easy.drive along the mountainous road is about 700 kilometres.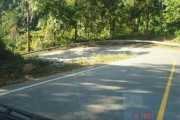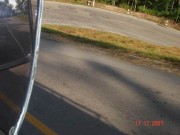 "Highway No.1095" Mae Hong Son-Pang Mapha.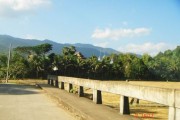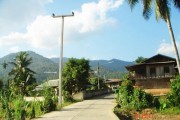 "At Phu Klon Country Club" natural black mud which has skin care and therapeutic benefits has been discovered. Now the area is developed to be a spa resort. To get there, you can travel 6 kilometres from town on Route 1095 (Mae Hong Son-Pai), then turn left into Ban Kong Mai Sak Ban Huai Khan Road and continue for 4 kilometres.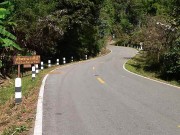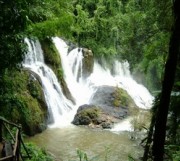 "Namtok Pha Suea" This waterfall is in Tambon Mokchampae about 26 kilometres from the provincial seat on Route 1095 to Pai district with a left turn at Km. 191. It is a large fall with its water source in Myanmar and runs full during the late rainy season (August-September).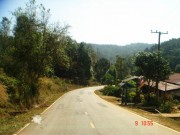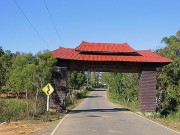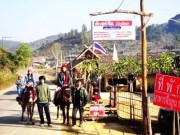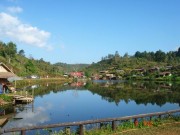 "Ban Rak Thai"

This village is situated 44 kilometres from Mae Hong Son via Pha Suea Waterfall near the Thai-Myanmar border. Founded by Kuomintang Chinese soldiers, the village is famous for its breathtaking views and tea cultivation. Visitors can see how the tea is grown and harvested and taste some delicious U-long tea. An annual Tea Tasting Festival is held at Ban Rak Thai in February.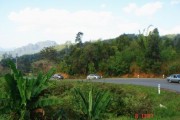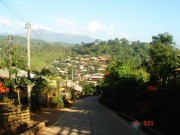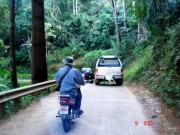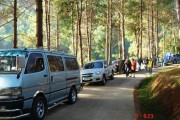 "Pang Ung"

Not far from Mae Aw lies Mae Hong Son, 27 km from center "Pang Ung", known for its production coffee beans. A few kilometers out of the village there ist a lake, a water reservoir, surrounded by pines with a camping area. The lake is covered by fog in the early morning, until the sunshine comes. Very romantic! A road runs along the lake to a green hill Pang Ung Category village.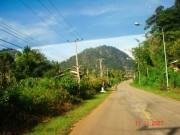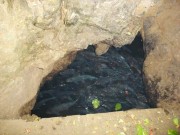 "Tham Pla" About 17 kilometres from town on Highway No. 1095 (Mae Hong Son-Pai), Tham Pla is a popular attraction of Mae Hong Son. The surrounding areas are brooks and cool hilly forests suitable for relaxation. A special feature is the hollow cave filled with numerous freshwater fish known as Pla Mung or Pla Khang, which is of the same family as the carp. The fish are quite safe from being caught as they are believed to belong to the gods.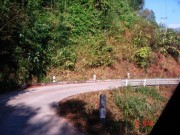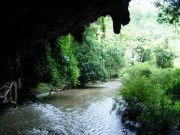 "Tham Lot" is a huge cave system once a dwelling place of pre-historic man. Archaeologists have discovered ancient clay pottery and a number of carved wooden coffins inside the rooms of the cave. Tham Lot is located some 77 kilometres from town. Between Km.138 and Km.139 of Route 1095, a small roads lead to the cave after a 9-kilometre drive. Here nature has created an exotic subterranean wonder of darkness and mystery.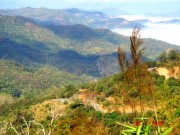 Trip route from Mae Hong Son - Pai.Thailand archaeology And There are many other caves in Pang Mapha.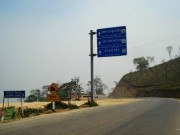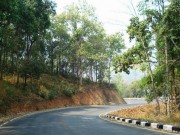 Highway No.1095 "Pang Mapha - Pai" Route through the mountains which takes several hours (but worth it). It's a steep and windy drive, with lots of curves.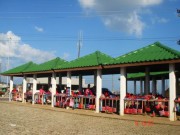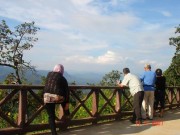 "Pang Mapha" There are more than 200 caves found in Pang Mapha district in Mae Hong Son province (northern Thailand). This place close to Myanmar's Shan state is a house to several hilltribe "mountain people". These tribes include Thai Yai (Shan), Mu Sir Daeng (Red Mu Sir), Mu Sir Dum (Black Mu Sir), Li Saw (Lisu) and Karen.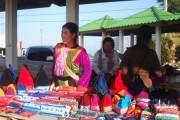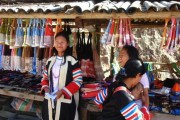 Several prehistoric sites are known with in Pangmapha area. The most famous one is the Spirit Cave, discovered by Chester Gorman in the mid 1960s, was occupied from about 9000 till 5500 BC by Hoabinhian hunters and gatheres. Two other significant sites nearby are the Banyan Valley Cave and the Steep Cliff Cave.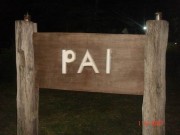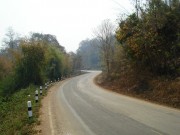 " Pai" is a sleepy little town nestled in the mountains in the far North of Thailand. The Northern area is famous for its hill tribes, spectacular scenery and relaxed way of life.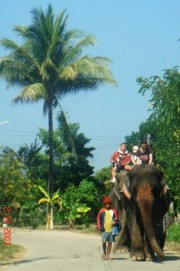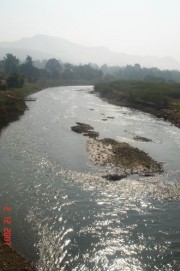 The brook winding by enhancing the mood of the quiet atmosphere. This guy knows how to drive an elephant.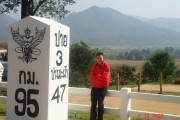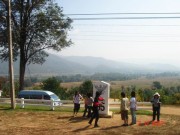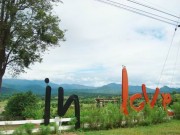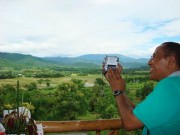 Stopped at the "Coffee in Love" sign, the most popular coffee joint in Pai. from Pai to Chang Mai.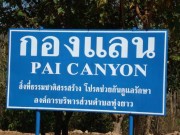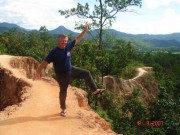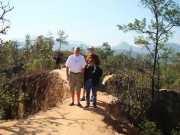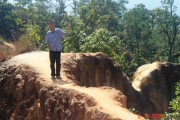 "Pai Canyon" (Kong Lan) before reaching the World War II Menorial Bridge.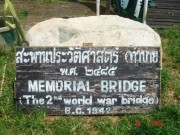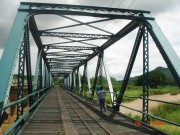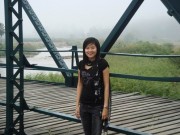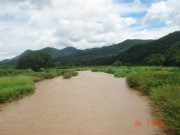 "World War II Memorial Bridge" is located at the kilometer marker 88 on highway 1095 (Mae Malai-Pai Road).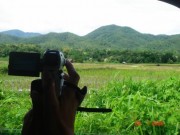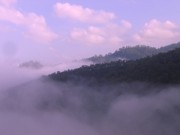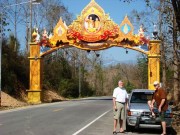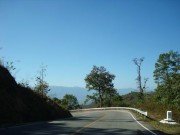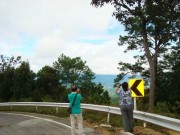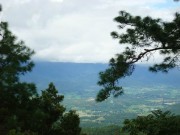 Trip route from "Pai - Huai Nam Dang National Park" embraced by rolling mountains and enveloped in natural setting that is fresh and beautiful. The atmosphere is clean, pure, quiet and warmly welcoming.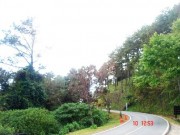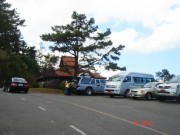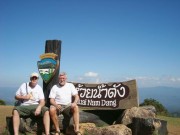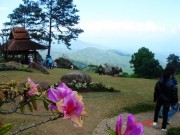 Huai Nam Dang National Park is about "60 kilometres along the Pai" (Mae Malai-Pai Road). The park is ruggedly mountainous spread from north to south and the same ranges Chiang Dao mountain range. The highest peak-Doi Chang at 1,962 meters above sea level, is the vital source of important streams, which flow into the Pai river, Ping river and Taeng river.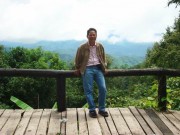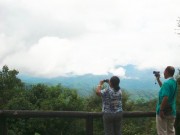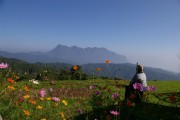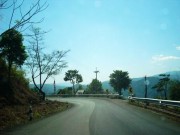 Hard to see - but the showed almost "1400 m at this point".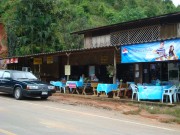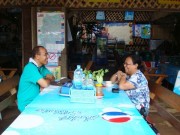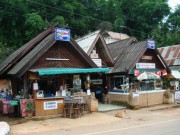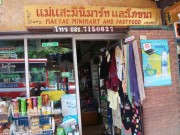 "Mae sae" is located on the Mae Malai-Pai road.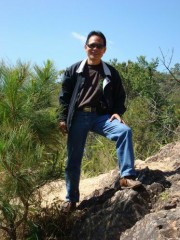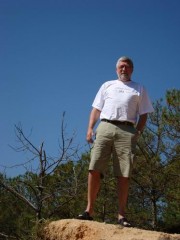 "Mae Sae Forest Protection Unit" (Mae Taeng, Chiang Mai).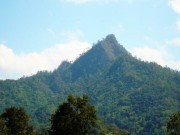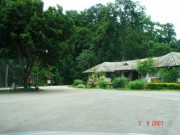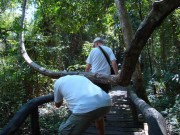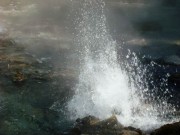 "Pong Dueat Hot Spring" If you are in your own vehicle you need to take route 1095 to kilometre 42 until you reach a road that leads to Pong Dueat Hot Springs.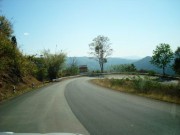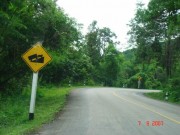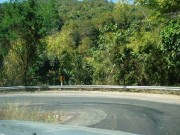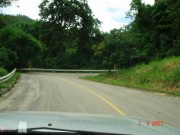 The road from Huai Nam Dang National Park to Chiang Mai is quite good, although also quite "curvy".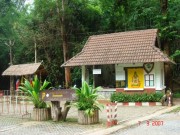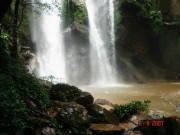 "Mok Fa Waterfall" (Namtok Mok Fa) Mae Taeng district on the Mae Malai-Pai road.